605 – LIVE Debate: Should Professional Handlers Be Allowed in BPUP?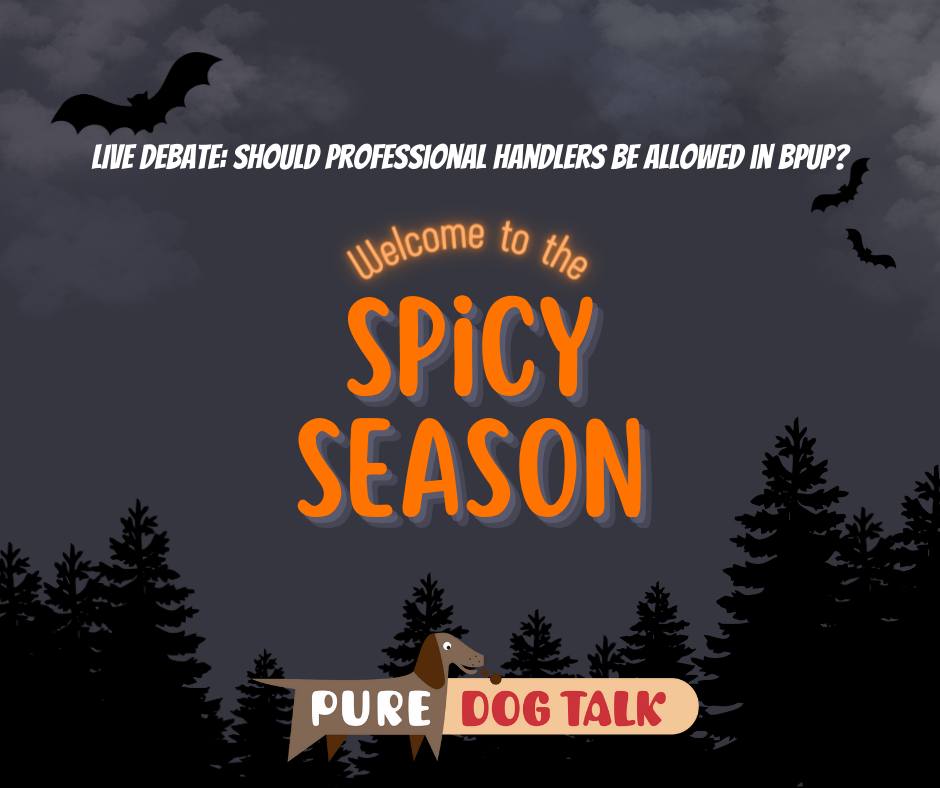 LIVE Debate: Should Professional Handlers Be Allowed in BPUP?
Our final installation for Spicy October is a LIVE@5 debate between an owner handler and a professional handler regarding the hot topic of the rules around the BPUP, 4-6 months puppy competition.
Natalie Thurman, owner handler:
I do think that there are people who start out and it is intimidating to go up against the Laura's and the Karyn's of the world because you just make it look so easy and then we try to go do it and then it's not as easy. Not even a little bit. I mean I know it's why we have owner handled groups. But if you're not getting to the owner handled group either BPUP could be a good place to feel safe as a non-experienced dog show human.
Karyn Cowdrey, professional handler:
I believe everyone should have the opportunity, including breeder owner handlers, to show in BPUP. Why? Because the fact of reality of our life today is there are fewer and fewer handling classes people can get to. As handlers, often we're the ones teaching the handling class and we don't get to work our dogs in the environment. As a handler, it is important to me that my puppies that I own, that I bred, that I decided to keep, get the best experience they can in the
start of life in the ring. I shouldn't have to hand them off to a total stranger.
Laura Reeves, host and moderator:
The concept (of BPUP) is that the American Kennel Club wants to support the novice handlers and that the simple presence of someone more capable than they are, whether they be a professional or a breeder or what have you, is unnerving. And I don't know that that's a great solution. I think we all learn by being challenged, but I know it is something that is a thing.
AKC gets banged a lot for not being encouraging and inviting and we as the representatives of the AKC get banged for the same thing. I sincerely believe that for people who think it is a big deal, they should get to do that. They should get to have that moment.
Hope is what gets us and keeps us. And I guess that's what I would pin Best Puppy to. Is that baby inkling of hope. That tiny tingle of hope that the very new person gets when they get their first puppy.
And they are so excited and they don't know what the hell they're doing. And their breeder's probably shoving them in the ring. And they're really encouraging them to do this. It's hope. And I guess to me, when I judge it, when I see it, best puppy to me represents hope. It represents the hope that we as breeders have for those puppies that are in the ring. It represents the hope that those owners and handlers have for their new puppies. It's hope.
BPUP represents the hope that those owners and handlers have for their new puppies. It's hope.
The part of me that thinks that hope is important, thinks that owner handled being what is important and encouraging new people being what's important, I see the argument to make it a quote -unquote safe space from professionals.
Join us for the full replay of this spicy hot topic.
KNOWLEDGE IS POWER — FRANCIS BACON
When you become a patron of Pure Dog Talk you'll tap into an exclusive community of experts to help you and your dog be blue-ribbon best at whatever you do with your purebred dog! Your support helps keep the MP3's rolling at Pure Dog Talk!
As a supporter, you'll immediately gain access to the weekly Pure Pep Talk SMS, Pure Pep Talk private Facebook group, and priority emails. Patrons can choose to level up to the After Dark Zoom and a Patrons Digital Badge for their website— even a private counseling session with Laura on any topic.