248 – LIVE: Laura on Breed Specific Presentation Featuring Sighthounds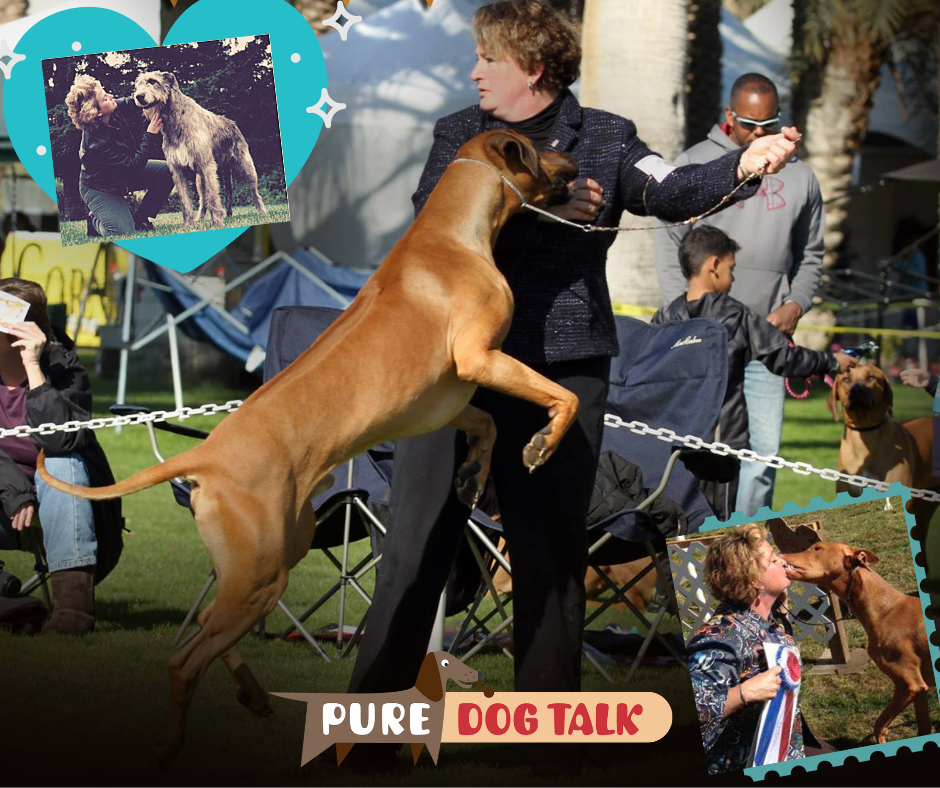 Commonalities and Differences in Sighthounds
Live from the Harvest Moon Cluster, your host Laura Reeves talks sighthounds. The seminar was sponsored by the Saluki Club of Greater San Francisco. Watch and listen to the entire seminar here.
Temperament and showmanship are part of breed type. Our job as handlers is to showcase our breed's character and personality accurately, not make our Wolfhound show like a Doberman. For breeds with less "flash" that might be overlooked in group competition, it is incumbent on us as handlers to provide an engaging, effortless back drop.
Pretty Hands
Our hands tell a story in the show ring. How and where we place our hands on the dog is part of the presentation. Sighthounds specifically call for soft, quiet, elegant hands. Holding the collar, placing the feet, should be done gracefully. Quietly drawing the judge's eye to our dog's finest features while using our hands as a "frame," we actually can "talk with our hands" and subtly communicate with the judge.
Dog handling in general is best done when we are judicious and smooth with our hands. The unique nature of sighthounds means than keeping your hands on the dog at all times will help steady the dog and allow him to be balanced on his own feet.
While showcasing our dogs involves a bit of "sleight of hand" in terms of maintaining emphasis on the good and not the faults, Laura shares her 1-2-3-4-5 hand stacking method as a refresher course. Hear more in depth discussion on this topic in episode 2, "How to Stack Your Dog" or in our new audio book, debuting in January.
Give Your Dog What it Needs: Confidence and Focus
All dogs take their cues from us as the handlers. Sighthounds are particularly in tune with their people and draw their confidence from us. Be sure you are relaxed and enjoying spending time with your dog for your best result.
Moving Gracefully – Float with Your Dog
Drive from the hip and a gradual and collected acceleration are keys to showing the judge your dog's best movement. Don't let your dog look like "an octopus on speed" by following these suggestions. More discussion in episode 3 and in the audio book.
Ears and Tails
Each of the sighthounds, and really all dogs, have a correct ear and tail carriage to "make the picture" for the judge. Learn how to work with your dog's attitude to get the best results.
KNOWLEDGE IS POWER — FRANCIS BACON
When you become a patron of Pure Dog Talk you'll tap into an exclusive community of experts to help you and your dog be blue-ribbon best at whatever you do with your purebred dog! Your support helps keep the MP3's rolling at Pure Dog Talk!
As a supporter, you'll immediately gain access to the weekly Pure Pep Talk SMS, Pure Pep Talk private Facebook group, and priority emails. Patrons can choose to level up to the After Dark Zoom and a Patrons Digital Badge for their website— even a private counseling session with Laura on any topic.