213 – Scottish Deerhounds in Obedience with Record-Making Trainer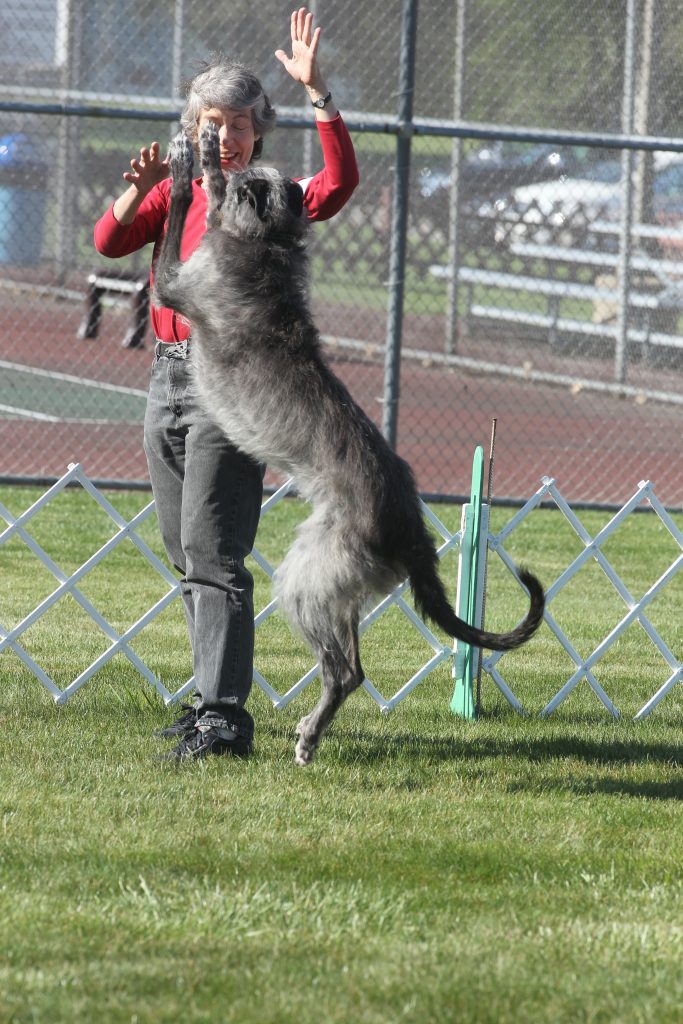 Training Scottish Deerhounds for obedience competition requires patience
The "otherworldly" grace of Scottish Deerhounds first appealed to Debbie Cutter in the early '80s as she sought a dog to compete in obedience. Her original breeder told her "do not try to do obedience with deerhounds. They aren't good at it and they don't like it."
In the intervening 35 years, Cutter has finished eight UD titled Scottish Deerhounds, including the first and only two UDX deerhounds.
While there has never been an Obedience Trial Champion (OTCH) Deerhound, Cutter's current competition dog is well started on her way, "God, I'm hoping," Cutter said. "That's my goal. She has 6 OTCH points and her open B first place."
"The basic essential for training obedience with Deerhounds is to be more stubborn than the dogs," Cutter added.
Make it their idea
Her secret to success working with an independent breed that is specifically designed to *not* be biddable: make them think everything is their idea.
"Deerhounds will teach you that they can't do obedience," Cutter laughed. "Any time you try to impose your will on a deerhound, the dog just says no. You are not going to make me do this and I'll embarrass you until you quit. They don't want people to have expectations. Because once the owner starts having expectations that the dog is required to meet, they won't be able to live their life of luxury."
Make it FUN
Cutter's best recommendation is to start young and convince the puppy that obedience is a fun activity. She works primarily with bitches, she said, as the males aren't as mentally tough. "Teach her that she is in control. She is in charge of dispensing treats. Once they learn that, they see what else they can make you do."
Make them think their idea
Break all exercises into small steps
Build teamwork after you get buy-in
Deerhounds are very smart, Cutter said, they aren't easily distracted and they generalize well, but they are not at all biddable. A Deerhound's first reaction is, "I know what you want me to do, I just don't care."
Fair and Patient
"They want to know what's in it for me," Cutter said. "They do a risk:benefit analysis on everything."
"I'm a balanced trainer," Cutter said. "(Deerhounds) are very rules oriented. You don't really have a leadership role, it's fully a negotiated relationship.
"For example, Sighthounds have no genetic desire for a retrieve. It takes a long time. It's not a casual thing to teach a Deerhound to retrieve. You need to be very fair and patient."
Listen to today's episode to hear more training tips and Cutter's fabulous story about her recent trip to the AKC Obedience Championship.
Debbie Cutter Biography:
I've been doing obedience training for 35 years.
My first dog was a German Shepherd; she earned a UD and a TD, and my second dog was my first Deerhound, Scarlet (Fairyfort's Study in Scarlet UDTX FCH). She was the second Deerhound to earn a UD (Utility Dog) title and the first to earn a TDX (Tracking Dog Excellent) title. I've not been without a Deerhound since, although I've had some other breeds along the way.
My next Deerhound was Lacey (CH Kyleakin Cardinal at Skyhigh UD TD), then came Caitlyn (CH Highlander Annwn O'Jubalhil VCD2 UDX VC), the breed's first VCD2 (an AKC versatility title that combines the CDX, TD, OA, and OAJ titles) and the breed's first UDX (Utility Dog Excellent, which requires earning ten legs by qualifying in both Utility B and Open B at the same trial). This was a very challenging title for us as I really didn't know if we had the endurance to complete it! Caitlyn was nine when she got her last leg.  It was one of my happiest moments in the obedience ring!
Caitlyn had one litter, with Ellen Bonacarti's Rory (NFC BII DC Chartwell Silver Run Valevue LCM6 SGRC GRC FCH) and from that litter I had Kit (Skyhigh Spitfire O'Jubalhil UD FCH GRC) and Ariel (CH Skyhigh Citabria O'Jubalhil VCD3 UDX SC MX MXJ FCH GRC VCM).  Ariel was the most amazing dog I've ever known. She excelled in obedience, tracking, and agility, and loved LGRA most of all. She learned to cheat early in lure coursing and almost always caught the bunny. She accomplished everything I asked of her and did it with her own style. She was much smarter than I was, and much, much wiser. She was my most demanding teacher and I treasure the years I had with her.
Ariel had one litter, sired by Intl. CH Intl. FCH Nelungaloo Shadrach.  I ended up with two of these offspring, Harper (Skyhigh Kentucky Thunder VCD1 UD OAJ), and Zoe (CH Skyhigh Jubalhil Blue Moon O'Dark Corner VDC2 UD).   While Zoe was still alive and doing well on three legs, I acquired Rowan, who is the most talented Deerhound I've ever trained in obedience.  I'm hoping we have many, many fun and exciting years ahead of us competing in the obedience ring.
Rowan is my eighth UD Deerhound and is close to her UDX.  I've also earned a UDX on a German Wirehaired Pointer and UDs on two German Shepherds, two Wirehaired Pointing Griffons, another German Wirehaired Pointer, and a CDX on a rescue German Shorthaired Pointer.  I've earned tracking titles and a handful of agility titles on these other dogs as well. I'm also currently working on a CDX on my Deerhound boy Khamsin (GCH Kyleakin Whirlwind at Skyhigh BN JC CD).
KNOWLEDGE IS POWER — FRANCIS BACON
When you become a patron of Pure Dog Talk you'll tap into an exclusive community of experts to help you and your dog be blue-ribbon best at whatever you do with your purebred dog! Your support helps keep the MP3's rolling at Pure Dog Talk!
As a supporter, you'll immediately gain access to the weekly Pure Pep Talk SMS, Pure Pep Talk private Facebook group, and priority emails. Patrons can choose to level up to the After Dark Zoom and a Patrons Digital Badge for their website— even a private counseling session with Laura on any topic.