Video: Friday Fun: Dogs to the Rescue: Pluis Davern on Search and Rescue Dogs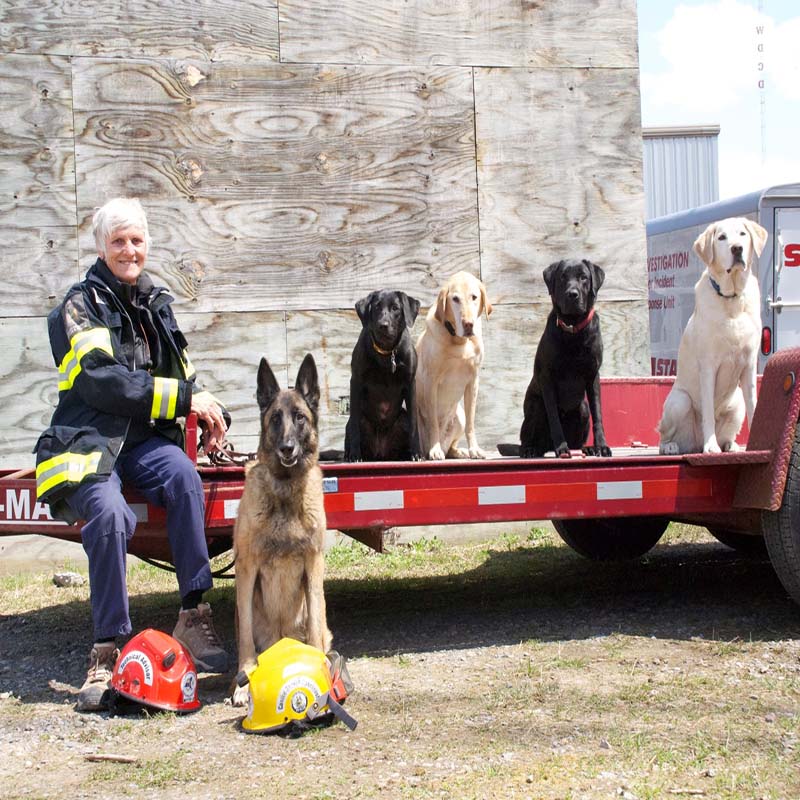 Part 2: National Disaster Search Dog Foundation – Providing Trained Dogs for Firefighters and First Responders
From major tragic events like the Earthquake in Nepal, Tornado in Joplin, Missouri, Haiti earthquake,  Japan Tsunami, Hurricane Katrina, World Trade Center, and Oklahoma City bombing, to local disasters and emergencies, the trained teams of canine and firefighters and first responders are on call-for-duty.
Founded in 1996, the National Disaster Search Dog Foundation (SDF) is a 501(c)(3) non-profit, non-governmental organization based in Santa Paula, California. Our mission is to strengthen disaster response in America by recruiting rescued dogs and partnering them with firefighters and other first responders to find people buried alive in the wreckage of disasters.
What One or Two Women Can Do, You Can Too!
What was the saying… "Think not what your country can do for you, but what you can do for your country"?
You may have met Pluis as a judge, or wandering the obedience area or dog show.  But she is a powerful and dynamic example of what determines the quality of life for us and our canines.
If You Want Something Changed… Do It!
Mirror her accomplishments and determination, don't just admire it or think "how great is that"?  As you enjoy the videos on Pluis Davern and NDSDF, think about what action YOU will take to give back.
Pluis Davern
2011 AKC Breeder of the Year – Sundowner Sussex Spaniel
First Sussex Spaniel, Vicar of Lexxfield CD was the first Sussex Spaniel to win Best in Show in the U.S. and place in the group at Wesminster.
Helped create Spaniel Hunt Test
One of two women who formed the National Disaster Search Dog Foundation. Trains teams for FEMA.
AKC Licensed Judge
KNOWLEDGE IS POWER — FRANCIS BACON
When you become a patron of Pure Dog Talk you'll tap into an exclusive community of experts to help you and your dog be blue-ribbon best at whatever you do with your purebred dog! Your support helps keep the MP3's rolling at Pure Dog Talk!
As a supporter, you'll immediately gain access to the weekly Pure Pep Talk SMS, Pure Pep Talk private Facebook group, and priority emails. Patrons can choose to level up to the After Dark Zoom and a Patrons Digital Badge for their website— even a private counseling session with Laura on any topic.