134 – David Frei|Power Behind Televised Dog Shows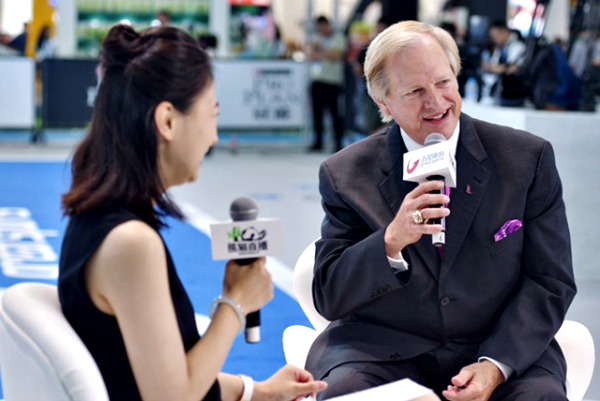 David Frei on Televised Dog Shows – In His Own Words
David Frei hosts the NBC televised National Dog Show Presented by Purina, happening today at noon across the country. David talks with Pure Dog Talk about HIS favorite Thanksgiving snacks, benched dog shows, judging in Shanghai and the power of national television to reach the "outside world" with information about purebred dogs.
David's favorite snacks… there are doggie treats in a bowl! Say what? And, he reminds our dog show aficionados "No cheating! Don't take advantage of your insider knowledge to win bets with your family at the dinner table."
National Dog Show Month
The National Dog Show MONTH kicked off in Philadelphia with a dog walk for charity that benefited multiple different organizations in the city. It also featured the inaugural National Dog Art Exhibit, "The Perfect Dog" children's musical and a National Dog Show Gala, along with the famed Kennel Club of Philadelphia dog show, which is taped for broadcast on NBC Thanksgiving Day following the Macy's parade.
"This event really allows us to reach out to public and promote purebred dogs," David Frei said. "I always feel the pressure of representing our sport to outside world. I want to show the outside world that these great show dogs are real dogs. That the people showing them are real people, engaged in a great family sport. And that we want them to have fun watching the show, learn a little bit about the different breeds. Maybe appreciate their own dog more. The real best in show dog is the one sitting on the couch by them."
Two Hours of David Frei "Talk"
With so much public opinion against purebred dogs, the National Dog Show gives Frei a two hour televised platform to talk about what makes them so great. "Purebred dogs are all about predictability," he noted. "Somebody brings home a ball of fluff, if it's purebred you know what it will grow up to be. If it's a Pomeranian, it's going to stay a four pound ball of fluff. If it's an Akita puppy, that's a whole other story. It keeps dogs out of shelters because people know what to expect."
"If you're somebody who sits at home every night and watches tv, don't get a Border Collie," Frei observed wisely. "On the other hand, if you get out and run every day, don't get a bulldog. Joe Garagiola once asked me, 'Don't you wish they could talk.' I said NO! First, I'd get in trouble. But, second, I know what they want to say. They want to be with us. They want to go everywhere. Dogs are permanent companions for anything we want to do.

"Who can't look at a dog and smile. If you aren't that person, there's probably not much we can do for you. Either on the tv show or in life."
Judging Televised Dog Shows in China
Frei recently had the opportunity to interact with what is a growing worldwide community of purebred dog lovers. He was invited to judge in Shanghai at the first live televised dog show ever in China.
"We were on TV for two days," Frei said. "This was the largest pet expo in the country and Purina was a major sponsor for the dog show."
Frei commented that both dogs and handlers have gotten better since he judged in Beijing a number of years ago. And, even more noteworthy, "Dogs have become more important in the culture. We had huge crowd at the arena. We had enthusiastic commentators. They didn't speak English, but they addressed the crowd over the PA system the entire time. Every chance we have to promote our sport, which in turns promotes dogs and dogs in our families, is important.
The Dog World is International
"All seven group winners were owner handlers, some were breeder owner handlers. The best in show winning Sheltie had just been in the US, where he won an Award of Merit at the US National," Frei said. "The world's gotten to be a smaller place. It helps us get dogs around the world that can maybe help influence breeding programs and the quality and the health and temperaments of the dogs everywhere."
As the world gets smaller, the historical aspect of some of our traditions grows in importance. Benched dog shows, like the Kennel Club of Philadelphia, while there are now only three remaining the US, were standard operating procedure until the 1970s.
Need for More Benched Dog Shows
"Benching is important for public outreach," Frei said. "It's a whole different experience for spectators. Not only can they see all the breeds, see the dogs, get up close and personal. Touch them, pet them, talk to them… You can't do that with any other athlete in any other sport. But they can also talk to breeders to find about temperaments and care that are important for the breed. This is the greatest thing we offer in terms of an educational opportunity for people to find the next dog for their family."
And it's important for the dog show fancy as well. "In this short attention span age we live in, people show, if they don't win, they pack up and go home," Frei commented. "This is not good news for our sport. I can't tell you how many things I learned from Pat Craige (Trotter) sitting next to her on the bench waiting for the hound group.
"Most of my social friends are from the dog world. It's a great place to be, a great place to have friends, a great activity that you can do with the dog you love."
David Frei's Parting Words?
"Hug your dog!"
Dogs Til 2
Don't Miss the National Dog Show on NBC Thanksgiving Day following the Macy's Day parade!
KNOWLEDGE IS POWER — FRANCIS BACON
When you become a patron of Pure Dog Talk you'll tap into an exclusive community of experts to help you and your dog be blue-ribbon best at whatever you do with your purebred dog! Your support helps keep the MP3's rolling at Pure Dog Talk!
As a supporter, you'll immediately gain access to the weekly Pure Pep Talk SMS, Pure Pep Talk private Facebook group, and priority emails. Patrons can choose to level up to the After Dark Zoom and a Patrons Digital Badge for their website— even a private counseling session with Laura on any topic.