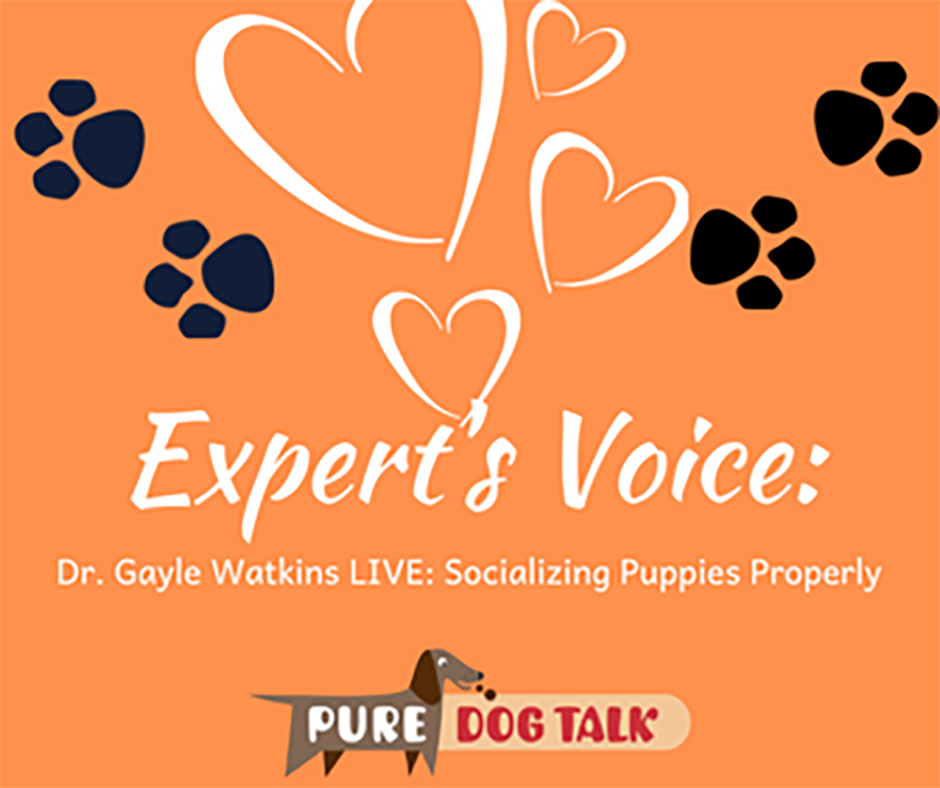 Dr. Gayle Watkins LIVE: Socializing Puppies Properly
Four-time AKC Breeder of the Year in four different sports, Dr. Gayle Watkins, founder of Avidog, speaks about how we create working and competition dogs through proper socializing.
Watkins observes that socialization is building social relationships with humans and dogs. And the current method of socialization causes more harm than good. Puppy development should be manners, mental resilience, civility and trust, she posits.
"The vast majority of people think socialization ends at 16 weeks, the sensitive period. Those first four months so important to puppies. But most dogs need socialization or "development work" through 15 months," Watkins said.
Another misconception Watkins notes is that 8 to 10 weeks is a fear *imprint* period, not a time in which dogs are necessarily more fearful.
"They're not more afraid at that age," Watkins said. "They're going through continual progression towards fear that starts at 5 weeks. It's what a canine is. They are fearful creatures. This is inherent in this species, so fear is inherent in dogs."
"If you go online and you Google socialization and puppies, you'll get a million hits, over a million hits, and you will get checklist after, checklist after checklist. This is not a checklist. We're talking about teaching skills. What is stability? It's the appropriateness of the dog's response to stress.
"I also want to build resilience. Putting them under stress very, very early. So that they can be resilient. Resilience is the ability to bounce back from stress and frustration. If you think about it, we can't make every puppy bombproof. More than anything else. It is built through inoculation to stress. When we are aiming for stability, we want to introduce stress to teach them the right behaviors. Here we must introduce stress to teach them to be resilient."
Watkins' insights on raising sensible, calm competition ready dogs is invaluable. Listen HERE to one of her first conversations on Pure Dog Talk, on bomb proofing your puppies.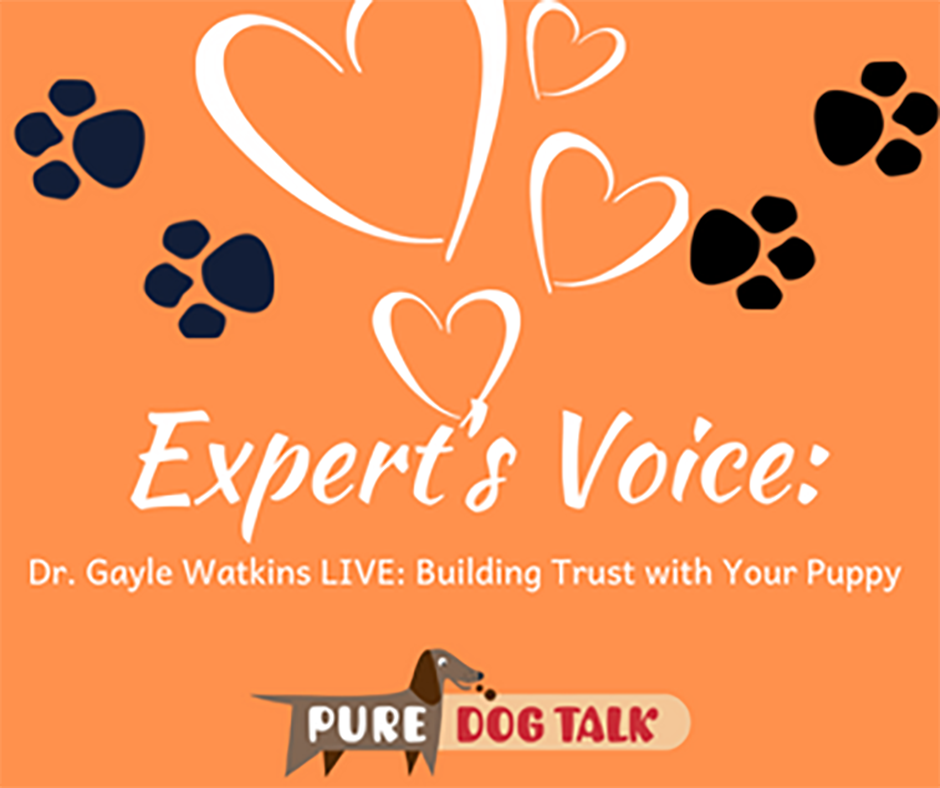 Building Trust with Your Puppy During Socialization
Dr. Gayle Watkins is back with part two of her presentation on proper socialization steps for raising competitive dogs.
Watkins emphasizes the need for the owner and puppy to build trust during early socialization. This means being a "control freak" about safe-guarding your puppy's interactions with people, places and other pets.
"We are responsible for creating trust," Watkins said. "We do it by being trustworthy and reliable. We are often not trustworthy with our dogs. Teach your puppy they can rely on you.
"Civility is the appropriateness of behavior around people and dogs," Watkins added. "It is keeping your mouth shut, not biting anyone, not climbing on anyone. Not assaulting other dog or people as you are meeting. Civility is not the same as friendly. It does not require physical interaction. More important to teach our dogs indirect interaction, when they see a person or dog and do not interact."
Getting puppies "out" to see urban centers, hear different noises and so forth does not also necessarily mean *meeting* other people and pets right away, Watkins noted. She also advocates for supervised puppy classes long before training classes begin.
Puppies handle stress best if we give them cues they can fall back on, Watkins said. If a situation is causing stress for the puppy, have them offer a sit and watch behavior, for example. She adds that forcing a puppy in to a situation that is clearly uncomfortable or scary for them can cause you to break the trust you are hoping to build with the puppy.
Watkins also discusses acquired fear or aggression in dogs that can actually be passed on in the whelping box – epigenetics is the name of this phenomena. Her emphasis on raising stable and trusting dogs springs from studies that indicate 80 percent of aggression is genetically based.
The bottom line, Watkins said, is that raising confident, stable puppies takes time, effort and commitment.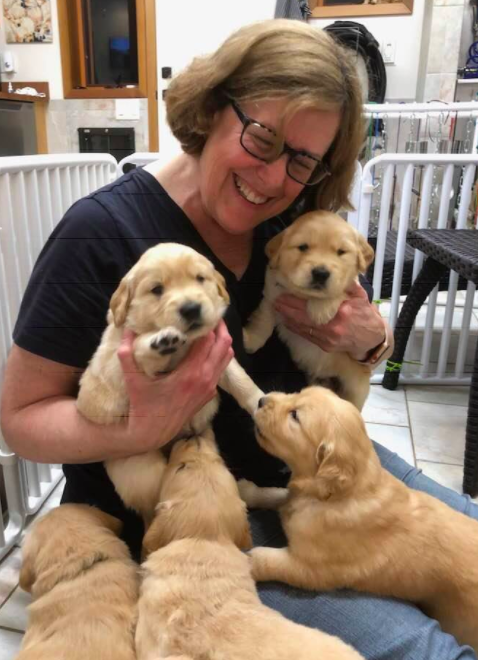 Gayle Watkins on Educating Breeders AND Buyers
Dr. Gayle Watkins of Avidog and host Laura Reeves talk about the importance of educating both breeders and puppy buyers.
"We have to take step back," Watkins said, "and realize how complicated our world is and how UNobvious it is, to even smart people that aren't engaged with us, and help people understand and honestly for us to distinguish what really is important and what isn't important…
"Let's say you would like a 50- to 60-pound active sporting breed. You don't care about color and what pops up (in an online search)? Both the German Wirehaired Pointer and the Golden Retriever, which is so wrong," Watkins said. "So, finding a way to guide people in a more sophisticated way, in a way that you understand and I understand, the buyer doesn't understand. They don't know because they think of (dogs) as cars. They just come in different colors … but those of us who breed know that those cars are very, very different. There's a whole big difference between a Maserati and a Volkswagen Beetle. (Even though they are the) same color and about the same size and they can only carry two passengers."
In order to facilitate outreach and education of both ends of the dog purchase, breeders and buyers, Watkins has joined forces with Good Dog, a young company focused on educating the public and supporting dog breeders.
"We need people breeding dogs," Watkins added. "So, if we have people who are interested in breeding dogs and doing it perhaps not to the level we would like to see, what's better? Run them out or raise them up?
"We have to find a way to engage people more in producing quality pet dogs. The hobby breeders are going to continue in their sport and they're going to continue to get championships and things like that, but we need more people who are trying to produce lovely pets…"
With an estimated 8-9 million replacement dogs needed just in the U.S. annually, as previous guests on Pure Dog Talk have noted, hobby breeders simply cannot meet the demand.
"How do we find those breeders, develop those breeders, lift those breeders up so we can keep playing the games that we love to play," Watkins asks? "Because we're not going to be able to, in my opinion, if we don't change something. The laws, the legislatures, the government… the animal rights activists, they're pretty successful now with adopt, don't shop. We have got to find a way to fight them.
"I strongly believe we cannot fight animal rights if we divide each other. And boy we're good at dividing. There's got to be a bigger voice and I think that voice needs to be young, technologically sophisticated, and able to make enough money to fight for us. In the world that we live in, in purebred dogs, making money is anathema… and that has not gotten us to a very good place in defending our right to breed.
"I think what we did when we were attacked by the animal rights people is we said 'oh we don't make money doing this.' That became our defense. That became our value. In doing that, it sets us up for failure on so many levels. It costs a lot of money to raise good puppies. If we don't have the money to do our job well, now we're opening ourselves up to attack from that perspective. (I think) we didn't have the confidence or we didn't have the backing or we didn't have the organization to say 'hey, you know, Mercedes makes a really nice car.' It's not that you can't make money and do a great job. You can do both of those things. But if you make a puppy into a commodity, where one is the same as the other, right now you're going to run into a problem. So, I think that value is one we have to overcome and then we have got to figure out a way to open our eyes to what's changed in the world."
Amongst the very first episodes on Pure Dog Talk were interviews with Watkins on puppy whelping and raising. These remain some of our most popular episodes.
Early Pure Dog Talk interviews with Gayle Watkins:
https://puredogtalk.com/podcast/11-dr-gayle-watkins-nutrition-of-the-dam-canine-nomograph-and-puppy-immunity-2/
https://puredogtalk.com/11-dr-gayle-watkins-nutrition-dam-canine-nomographs/
https://puredogtalk.com/podcast/14-dr-gayle-watkins-2-breeders-guide-to-neonatal-puppies-2/
https://puredogtalk.com/14-friday-fun-dr-gayle-watkins-2-breeders-guide-neonatal-period-puppies/
https://puredogtalk.com/podcast/17-dr-gayle-watkins-transition-period-in-puppies-part-3-2/
https://puredogtalk.com/17-dr-gayle-watkins-transition-period-stimulation-puppies-part-3/
https://puredogtalk.com/podcast/20-bomb-proof-your-puppy-dr-gayle-watkins-4-2/
https://puredogtalk.com/20-gayle-watkins-bombproof-puppy-sensitive-period/